I find myself very disgruntled with all the mudslinging going on among candidates running for the presidency.   It finally occurred to me that I was letting that behavior affect my own attitudes.  I  quickly realized I needed to choose another way– focus on the positive.  Holy week asks us to stay with Jesus through all his challenges.  We need to look deeper, beyond just the rituals of our faith, beyond appearances of people, and to examine the heart.   During Lent we heard at Liturgy  the scriptures where  Jesus chides the scribes and Pharisees for their preoccupation with external observances.  The  Pharisees and scribes were looking around at what other people were doing.  They were reminding them to be better while at the same time, criticizing and lashing out at the most vulnerable and not paying attention to their own attitudes.  Another mistake they made, perhaps that was their first mistake:   worrying about what others are doing, instead of challenging themselves to be more faithful.  So I am determined to not let the mudslinging throughout the presidential campaign suck me into heated arguments and divisive statements.
I forgot which saint said this, but she said you cannot even have the unkind thought, because the unkind thought becomes the unkind word, or worse yet, unkind deed.  Oh my – I have my work cut out for me.  I will try, this Holy Week, to walk with Jesus, coming closer each day to the reality he has in mind for me.  No wonder the church invited us into the Lenten season by asking for a renewal  through prayer, fasting and giving.   Without realizing it,  we can acquire some  thinking and behaviors  that keep us from seeing how God is present and active in our lives.  We may arrive at the Sacred Triduum not having been successful in all of our Lenten resolutions, but having come a little closer to allowing God to break through, into our lives a little more.   That is what prayer, fasting and giving are intended to do;  to release us from preoccupation with things, thoughts, and actions, that hold us back from recognizing how much our God loves us!   That love walks the walk of Holy week and finds that greatest love of all on Easter.
Blessings on your Holy Week.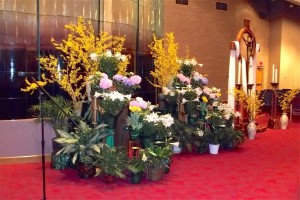 Dorothy Fuchs, SND,  was a high school teacher for twenty-nine years.  When teaching World Culture, religion and U.S. History  Sr. Dorothy tried to give her students the sense of the inherent dignity of people of all cultures, the critical thinking skills necessary to evaluate events in history, and the realization of the  gifts of our Catholic faith, a faith that teaches that all people are children of God.  For fourteen years Sister Dorothy was a pastoral minister. For twelve if those years Sister served on the staff of St. Michael the Archangel Parish, where as staff liaison to the Social Concerns Committee she worked with the committee to promote awareness of current social justice.