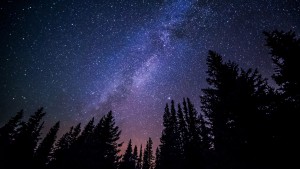 Recently a group of Sisters of Notre Dame  gathered at Bethany, the retreat center at the Provincial Center  in Chardon, OH  to reflect on LAUDATO SI', Pope Francis' Encylcical on Care for God's Creation.   The discussion starters were taken from eminent scholars  commenting on the gift of creation and the care we must take of our common home, the earth. There was something so familiar to me about the day.
Deep in my memory I relived the experience of lying in my backyard on summer nights. As a teenager, I was overwhelmed by the vastness of everything, the myriad stars scattered through the heavens, the timing of the seasons, the order of nature. The whole world was all so real, yet beyond absorption.  From ages six to fourteen, I trekked to and from  school through an amazing neighborhood replete with vast lawns and ancient, sturdy  trees.  A mile walk each way at least twice a day gave me lots of time to think.
The winters were  tough with icy challenges, yet mysterious beautiful.  Spring and fall revealed a more  delicate and powerful beauty.  And summer, finally summer.  It seemed to bring all creation back to the beginning, that place in my heart calling me once again to revel in its splendor.  What amazes me is that I was so aware and I appreciated it all so much.   Creation has that power at any age.  My mind never dwelt in the pragmatic.  I put no price tag on anything.  Creation was a great gift.  Nature was grand and mysterious, calling me to see that same beauty in my relationship with God, with my neighbors and all creation.   There  is an innate love of  the universe in every person.  I can't prove it; I just know it.  I know it from deep within me.  Time and circumstances may dim our consciousness of it, but it is there, strong and beckoning.
Pope Frances calls us to a new and renewed awareness of how interdependent we are with nature.  I rejoice in trying to absorb his urgent call to remember what we may have temporarily forgotten; we have a common home to love and protect.  We have the privilege of walking through this  masterpiece we call home.   We are called to see it again with new vision, new generosity and a true sense of awe.  How can we not respond to think of practical and careful actions to preserve, care for and protect our our common home?
Notre Dame Sister Mary Deborah Carlin is retired from many years as a high school teacher and parish Religious Education Director.  She currently is ministering as a volunteer at Bethany Retreat Center in Chardon, OH.