Many of us have watched on television or heard of programs involving prisoners being allowed to work with animals.  One program uses prisoners to train service dogs for people with special needs.   Another program allows prisoners to work with abused and neglected horses, helping rehabilitate both horses and people. These opportunities are a "win-win" situation, since both the prisoner and animal are "rescued" or given the chance to serve others.   Animals in particular are effective with prisoners, since there is no judgment on the part of the animal towards the incarcerated person.  This frees the inmate to "start over".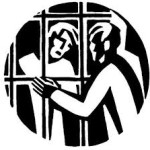 To visit the imprisoned is one of the corporal works of mercy.   The intent of this corporal work of mercy has many facets.   In meeting the criminal in person we can learn their story;   what events of developments in their life brought them to where they are today.
To go to a jail to visit or meet a prisoner is an act of mercy.   Writing to a prisoner lets the inmate know they are not forgotten.  Condemnation of the person is put aside, and the prisoner is reminded that the bottom line is that he/she is a human person deserving of respect, no matter how heinous their crime.  Human life matters.
In the March 23, 2015  issue of America magazine the current sad state of many prisons was highlighted.  In Florida in 2014 some 346 prisoners died.   Yes, a few might have died of natural causes, but 346?  Prison rape is all too common when young men are housed with seasoned inmates.  In some cases prisoners are sent far away from their families, making it difficult for family members to see them.
Similar to the current crisis in the U.S. regarding police behavior, some guards have become desensitized, and have become brutal in their treatment of those they are to guard and protect.   Private prisons are an industry, and some $45 million dollars have been given to political candidates and lobbyists over the years.  There is vested interest to keep costs low, resulting in inadequate numbers of guards, too great a reliance on solitary confinement to deal with behavior issues,  and insufficient training of prison personnel.
More programs are needed to engage prisoners in meaningful learning.   Many inmates have deep seated psychological problems.   More psychologists are needed to deal with some of these mental issues.  Guards would benefit from ongoing training to help them cope with the rigors of a prison environment, so that they do not become part of the problem.
The call of the gospel demands that we challenge the attitude of a few who believe that the solution to crime is to lock up the criminals and throw the key away.  How can you and I contribute to an attitude of mercy towards prisoners?  What steps can we take to let prisoners know they are children of God, no matter what their crimes have been?
Dorothy Fuchs, SND,  was a high school teacher for twenty-nine years.  When teaching World Culture, religion and U.S. History  Sr. Dorothy tried to give her students the sense of the inherent dignity of people of all cultures, the critical thinking skills necessary to evaluate events in history, and the realization of the  gifts of our Catholic faith, a faith that teaches that all people are children of God.  For fourteen years Sister Dorothy was a pastoral minister. For twelve if those years Sister served on the staff of St. Michael the Archangel Parish,