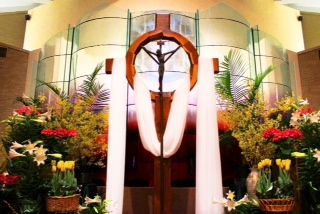 No matter which scripture account of the resurrection is read, there is a commonality in each account.   The disciple or disciples go from disbelief, fear and despair to a sense of great hope and joy.
The women go to the tomb to anoint the body of Jesus in great sorrow, anointing the body of the one whom they had loved, and had come to believe in, but whom they thought was now dead.  They are astounded and confused to find the body of Jesus gone, but ultimately the women experience great joy and hope.
Jesus appears to May Magdalene in the garden after his resurrection, but she does not recognize him.  When Jesus calls Mary by name she tries to cling to Jesus, but Jesus tells her He must ascend to His Father.  She goes to the other disciples proclaiming that she has seen the Lord.
The Resurrection accounts are stories of hope, a message that actually pervades the entirety of the gospel stories.  Whether talking to the man born blind, or the centurion, an outsider, or to lepers, Jesus brings hope.   This message of hope in the power of God bursts through at Easter in Christ's resurrection.
Easter brings hope to those without hope…. The homeless, those waiting deportation because of a lack of legal documentation…. those struggling with addiction… those without employment…. those in prison…..those caught in abusive relations…our planet earth straining to meet the needs of all creation….all those most in need of God's power can turn to a loving and merciful who has power over life and death.
Easter gives hope that passage of meaningful immigration legislation will one day happen.  God can break through the hearts of those who feel that punishment and retribution are the best answers for those who have committed crimes.
As a society we have the potential to end human trafficking.  People can be empowered to break out of relationships that harm themselves and/or their children.   It is possible to break patterns of addiction through support, counselling and the grace of God.   As a society we can adopt a more caring stance to our earth.  Does any of this happen easily?   It did not for the disciples, and it will not happen easily now.  But conversion of heart is possible, and does happen.
I was moved by the story of a murderer, who while in prison serving time, began to train service dogs.   Then he began to train dogs for autistic children.  Who was most changed by the prisoner's efforts?  Judging from the tears in his eyes, I think the prisoner's heart was most grateful for this chance to do something redemptive
Easter hope is not a "pie in the sky" belief that God will change everything.   Rather it is the belief that with God's power, we can and will make a difference in our world.    Rejoice!   Celebrate!   Our God is risen from the dead!   Our God walks with us on the journey, in the struggle for a more just society.