From Sister Kathleen Ryan, SND:   For the next several weeks, we welcome Sister Mary Beth Gray,  a trained Awakening the Dreamer and Wake Up (for young adults) facilitator for the Pachamama Alliance who  just returned from Amazon Rainforest as the guest writer of the JPIC blog.  This is the second  entry of the series.  Her journey continues….
Fundación Pachamama
On our final day in Quito, we visited Fundación Pachamama headquarters.  Wow!  What an organization!  An offshoot of the Pachamama Alliance, Fundación Pachamama is spearheading the local projects described below.
Fundación
Eco-Tourism Boosts Economy and Preserves Nature's Wonders
In the rainforest, there are no roads.  Roads are "the beginning of the end" of an ecosystem.  Once roads are built, trucks arrive, logging begins, and oil companies exploit the land.  We traveled on foot, by canoe, and by small plane.  No roads.
Eco-Tourism builds local economies while preserving the pristine beauty and biodiversity of the region.  Our Pacha Journey was an eco-tourism journey.  Everything was reduced, reused and recycled.  But eco-tourism goes far beyond that.
Eco-Tourism:  Solar Powered Canoes Coming Soon
Since there are no roads, the main transportation is via the rivers.  Currently, all gasoline must be flown in – greatly adding to the environmental cost.  Solar powered canoes will be eco-friendly, quiet and without fumes!  Solar powered canoes will allow passengers to be immersed in the beautiful sounds of the rainforest, and breathe in the clean air as they travel. The first two solar-powered canoes are under construction and will soon be in use.
Efforts Unite Against 11th Round of Oil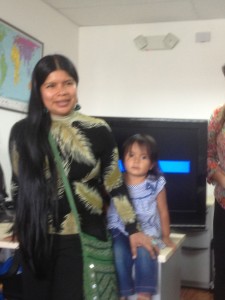 Elizabeth, an articulate indigenous woman, spoke to us through a translator.  Elizabeth is ardent about preserving the Yasuni Region of the Rainforest.  She spoke passionately against the 11th Round of Oil.  It was very moving to see her daughter next to her, knowing the impact of oil drilling on her daughter's future!
Special Project:  "Jungle Mamas"
We were thrilled to meet "Jungle Mamas" Program Director, Robin Fink and receive a first-hand update on this amazing project.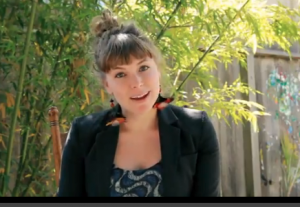 Robin describes Jungle Mamas as "a maternal health care program that saves lives at birth" among the Achuar.
 Safe birthing practices are of utmost importance.  If a mother is lost in childbirth, the family often disintegrates, and the children become orphans.
"Jungle Mamas" learn to calculate expected due dates, measure the uterus, take pulse and temperature, measure blood pressure, listen to the baby's heartbeats with a fetoscope, and identify the signs of high-risk pregnancies early on – in preparation for potential transfers to hospitals outside the rainforest.  If hospitalization is needed, several days of travel are often required (by foot, by canoe, by plane, and then by ambulance to a hospital). So the family must have a plan in place.
(For more about maternal mortality, see Half the Sky by Kristoff and WuDunn, chapters 6 & 7 or view the film;  both are available through most libraries.
"Jungle Mamas" are Women Empowered
No one foresaw the effect of this project on the "Jungle Mamas" themselves.  The "Jungle Mamas" themselves have been empowered by taking on this educated leadership role and providing safe births for other rainforest mothers!
For more information about the amazing "Jungle Mamas" Project, check out the video here.
Fundación Pachamama – Closing Thought
You would have to have a heart of stone not to be touched by the vision, dedication and tireless efforts these beautiful people are making to create a sustainable and just world!
Please join us for an Awakening the Dreamer Symposium, and let us explore what else we can do, together!  There is still time to register for an Awakening the Dreamer Symposium, Saturday, October 26, 2013 at Notre Dame Education Center, 13000 Auburn Road, Chardon, Ohio from 10:00am until 4:00 pm (lunch included)  The symposium is free and open to the public but registration is required.  Register by contacting pteckman@ndec.org